Life, Lemons and the Law
A Clarke Willmott podcast
Life, Lemons and the Law is a podcast series that discusses life changing experiences of all kinds; the story behind them, the immediate impact and the long term – often positive – consequences.
Working from home has changed the dynamics of the relationships we have with our colleagues, clients and community. For many, barriers have been lowered and a different kind of connection has been made. Sharing and reflecting on our personal experiences, challenges and successes with others is more encouraged now than ever and it can help build stronger, more effective professional relationships.
The intention behind Life, Lemons and the Law is to bring these experiences and connections to the forefront. We want to start conversations, offer you an opportunity to get to know some of our people and bring new perspectives to the relationships we have with those in our professional network.
You can follow our podcast on the following platforms: Podbean, Apple Podcasts, Google Podcasts, Amazon Music, Spotify.
#10: Fulfilling Dreams
Both Clare Gregory and Mamunul Wahid knew from an early age that they wanted a career in law. But neither came from what the industry, and perhaps society, would see as a typical background for becoming a lawyer. Clare and Mamun talk about their individual and very challenging journeys to becoming lawyers, from the expectations of family, friends and teachers through to understanding their own self-limiting beliefs.
You can also listen to the episode on Amazon, Apple and Spotify.
#9: Thirty-Two Years Later
Charlotte Murray knew from a young age that she was adopted. She always had access to her adoption papers, but it wasn't until she was a teenager that she felt affected by what was written in her notes. She talks about fear of rejection, meeting her birth father for the first time and why she would love to adopt a child in the future.
You can also listen to this episode on: Amazon, Apple and Spotify.
#8: From The Ground Up
Building and exiting a business can be a rollercoaster. Joe Cripps and John Lam share the highs and lows of their business journey, including their initial inspiration, why they exited and what they learnt along the way. Joe talks about the impact of the pandemic on Trail, an app designed for the hospitality industry, and seeking co-founder relationship advice. John shares how he forged ahead with an idea when others didn't see his vision and the impact of his commitment to Mazuma Mobile on his family.
You can also listen to this episode on: Amazon, Apple, Google and Spotify.
#7: Normalising Menopause
Would you recognise the symptoms of menopause in yourself, your colleagues or your loved ones? Lauren Chiren (Women of a Certain Stage) and Juliette Staunton didn't know what was happening to them when they entered menopause and peri-menopause, leading to worries about early onset dementia and whether they'd be able to continue with their careers. From sleepless nights to suicidal thoughts, in this episode they share their menopause stories. They talk about how employers can support their staff, how every woman's journey through this period of their life is different and the importance of normalising conversations about menopause
You can also listen to this episode on: Amazon, Apple, Google, and Spotify.
#6: Oak and Dora
Starting a family isn't always plain sailing and adding a pandemic into the mix brought new challenges. Kristian and Grace both had difficult entries into parenthood during lockdown. Kristian and his wife began IVF treatment just as covid hit and Grace's son spent one month in a neo-natal intensive care unit after he was born with significant health complications. They talk about welcoming their new babies, Oak and Dora, into a world that was social distancing, how life doesn't always go as expected and the value of living in the moment.
You can also listen to this episode on: Amazon, Apple, Google, and Spotify.
#5: Muddy Boots
Many of us dream of living 'The Good Life' and for good reasons – spending time outside can fire our imagination and aid our mental health. In this episode Helen Wallwork talks about how, over lockdown, her passion for food, her husband's love of gardening and a successful crop of lettuce led to a small vegetable patch becoming a bigger part of their life than they'd planned.
You can also listen to this episode on: Amazon, Apple, Google, and Spotify.
#4: An Unexpected Friendship
Good friends are a lifeline at the best of times, even more so when life gets stormy. Joe Campbell and Ruth Preston share how over lockdown, their professional relationship blossomed from discussing business development to supporting each other virtually through challenging and life changing periods of their lives. They talk about multiple sclerosis, the death of a parent, and the of value of opening up and sharing our vulnerabilities.
You can also listen to this episode on: Amazon, Apple, Google, and Spotify.
#3: Changing the Game
Former England rugby players Damian Hopley and Christian Day talk about the psychological and emotional impact of retiring from the game under very different circumstances. They share the challenges of giving up their identities as professional players, the lessons they are grateful for and the positives of retiring. Both are still deeply involved in rugby through their work with the Rugby Players Association. They talk about their mission to make sure players are treated as well as possible and the achievements they are most proud of.
You can also listen to this episode on: Amazon, Apple, Google, and Spotify.
#2: Running to New Perspective
Running has helped Kat Quinton and Philippa Hann to keep going through difficult times and find a new perspective. In this episode they talk about their love of running and how it has changed their lives, helping them deal with experiences including the death of a close friend, life-limiting medical conditions and relationship breakdown.
You can also listen to this episode on: Amazon, Apple, Google, and Spotify.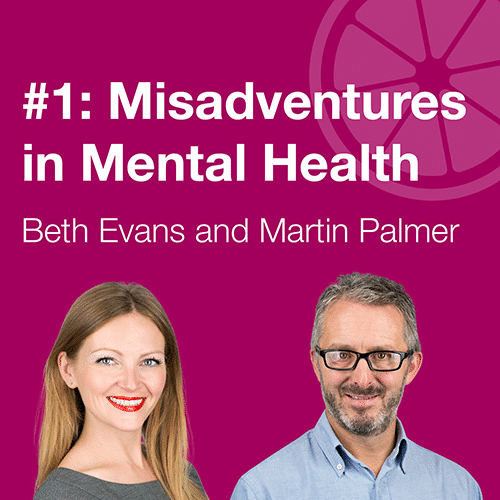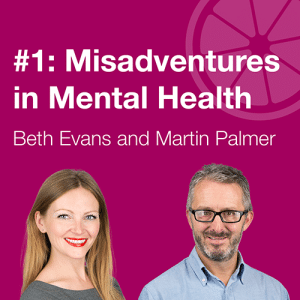 #1: Misadventures in Mental Health
Beth Evans and Martin Palmer share life changing experiences related to their mental health. Beth was diagnosed with obsessive compulsive disorder (OCD) at the beginning of the pandemic. She talks about the significant impact of her intrusive thoughts and how she manages them day-to-day. Martin remembers his 'beautiful breakdown', how it hit him more than 20 years ago and how he moved – and continues to move – forward.
You can also listen to this episode on: Amazon, Apple, Google, and Spotify.